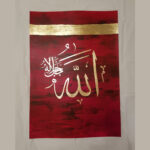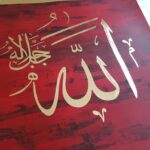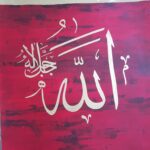 Jal Jalalahu Gold Leaf A1 Painting
£150.00
"Allah, Jal Jalalahu"
The name of God in Islam, written in gold leaf on a striking red painted background. This artwork is A1 size, (84.1×59.4cm) and would sit nicely in a gold frame.
Materials: Acrylic Paint, Metal Gold Leaf
Size: A1 (84.1×59.4cm)
Surface: Board
Date: 2020
If you would like to know more about this work or discuss having something similar commission made, please don't hesitate to get in touch.